Introduction
Go back in time and party like it's the 1970's. With a 70's theme party you can relive your childhood or experience it for the first time. Theme parties are extremely popular, especially a 70's themed party. We have a guide below on how to best experience the 70's without having to travel back in time.
Invitations
For people to come to your party you need invitations and what better way to set the mood than by using 70's styled invitations. These invitations will set the scene early on and give an idea of what's to come.
Food & Drink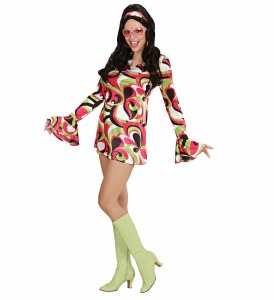 Fondue was at its height in the 1970's and no 70's themed party is complete without one. You can serve guests with meat, vegetables and bread to dip into the fondue. For dessert you can have melted chocolate accompanied by strawberries, raspberries, marshmallows and cookies.
Having punch at your party would be a great way to serve refreshments. There are a variety of punch recipes freely available online. Choose from one or more from the selection available online and it's sure to go down great with your guests.
Costumes
There's a great selection of costumes to choose from whether you dress up as a character from a 70's TV show or movie, a celebrity or sport star or dress up in the style that was popular at the time.
Here at Party World we have a few ideas to help you get started. Click on the links below:
Music & Activities
Music is essential for any theme party that depicts any era, especially for the 70's. There's an unlimited amount of music to select from this period in time. Whether you grew up listening to this music or you came across it later in life, all your guests will have a great time dancing the night way.
Here is a sample of some 70's music
Activities are also a great way to get the party started. Here are some ideas to get you started:
Limbo
70's Karaoke
Dance contest
Best dressed contest
And, finally of course Charades.
Recent Posts
So you're planning a party for your child, and you've invited your guests and picked a venue. Wha …

Children love to celebrate their birthdays with friends, but that doesn't mean you have to spend …

Explore the enchanting world of Disney Princesses. Be inspired with our selection of Disney …