Top 10 Disney Princess Costumes
03/12/2020 at 13:55 pm
Explore the enchanting world of Disney Princesses. Be inspired with our selection of Disney Princess costumes.
Top 10 Disney Princesses
Tangled star Rapunzel spent her days gazing out of her tall tower, brushing her endless magical locks of golden hair. While your hair may not be 70 feet long, you can be like Rapunzel in other ways, and even meet the dashing Flynn when you wear the magical Fairytale Rapunzel Costume.
Thrill to the excitement of the live-action production of Beauty and the Beast!
Light up the darkest corners of your castle and bring it to life with your own Grand Ballroom finale in this enchanting Disney Belle Costume.
Journey into the mysterious city of Agrabah where Genies grants wishes and evil advisors seek to overthrow the sultan. Transform yourself into a Persian princess with our Princess Jasmine Costume. She'll win Aladdins heart and your heart too in our Jasmine Costumes. The Jasmine Aladdin Costume features all of the designs typical of Arabian Nights
Dressed in the Frozen Elsa Costume see what powers you command over Arendelle's eternal ice and snow! This elegant powder blue dress with its graceful sleeves will make you look and feel like Elsa the Snow Queen from Disney's Frozen, but will you keep your secret power in check.
Watch all her dreams come true when she dresses in this beautiful Fairytale Cinderella Costume! Step out of those dowdy rags, leave those brushes behind and, instead, dance your way to midnight in this powder-blue confection of bows and sparkling organza! Prince Charming awaits!
These shades of lavender and aquamarine shimmer and shine like pearls playing on the sea bed. Dress in our Fairytale Ariel Costume from The Little Mermaid and answer the call of the deep! But before long, you'll want to surface, step ashore and find your own feet.
Magic Mirrors everywhere will struggle to call the Evil Queen the fairest of them all! When you're seen wearing our beautiful Fairytale Snow White Costume, no one will dare lay claim to your title!
Beware of spinning wheels and spindles as you try to give the evil Maleficent the slip. Dressed in our Disney Sleeping Beauty Costume, you'll wake to find your prince. Don't forget it will take a kiss to wake you and remove the curse.
9. Tiana Costume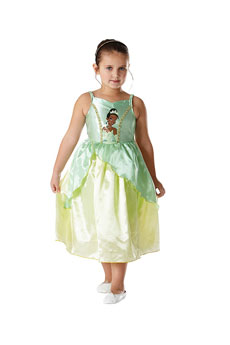 Bring Disney's recent cartoon to life with our Princess Tiana Costume. Motivated and determined, Tiana wants to do things her way. Tiana is a little girl who had dreamed of princes and fairytales from far off lands. Sadly she never thought she stood much chance as her family were very poor. Her life changes though when she is transformed into a frog along with the bankrupt but musical Prince Naveen.
A free spirit, a tomboy and a dab hand with the bow and arrow, Disney's Brave Princess Merida is in no hurry to become a royal lady! All the lords in DunBroch will need to stand in line, hoping they can woo this spirited Scottish lass.
Don't forget to check out our Disney Princess Party Supplies
Celebrate a birthday in glamour and style with Disneys Princess Party Supplies from PartyWorld. Make your little girls' dreams come true with an enchanting princess party. Every girl can be a princess with Disney Princesses Party Supplies.
Disneys Princess Party Supplies