First communion is a milestone in a child's religious journey and is a special occasion for families to come together and celebrate. A communion celebration party is a great way to honor the occasion and create lasting memories. Here are some tips to help you plan the perfect celebration:
1. Choose a Venue
When selecting a venue, consider the number of guests you will be inviting and the type of celebration you want to have. You may choose to have the party at your home, a local hotel, or a restaurant. Be sure to book the venue well in advance to ensure it is available on your preferred date to avoid disappointment.
2. Set a Suitable Time
Consider the schedules of your guests and choose a time that works best for everyone. First communion ceremonies usually take place on a Sunday, so keep that in mind when planning your party.
3. Send Invitations
Once you have chosen a date and venue, it's time to send out invitations. You can use digital invitations, paper invitations, or a combination of both. Make sure to include all the relevant information, such as the date, time, location, and any special instructions for the party. Check out our Personalised Communion Invites.
4. Plan the Menu
Think about the type of food you would like to serve at your communion celebration party. You can opt for a sit-down dinner, a buffet-style meal, or a dessert reception. Consider any dietary restrictions of your guests when making your menu choices. Don't forget if your getting a cake to plan it in advance and grab some Cake Toppers for it!
5. Decorate the Venue
Create a festive atmosphere by decorating the venue with balloons, flowers, banners and other special touches. You can also incorporate religious symbols, such as crosses and candles, to highlight the significance of the occasion. For all your Communion Party Supplies check out our range here.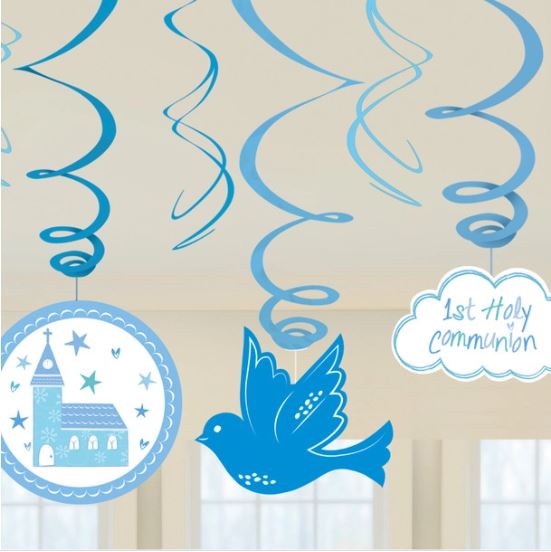 6. Capture the Moment
Don't forget to take plenty of photos and videos of the celebration. You can hire a professional photographer or ask a friend or family member to take candid shots throughout the party. Make sure you have plenty of photo props as they add great fun to any picture!
7. Give Thanks
At the end of the party, take a moment to express your gratitude to your guests for joining you in celebrating this special occasion. Consider giving out small tokens of appreciation, such as thank you cards or candles, to commemorate the day.
In conclusion, a communion celebration party is a wonderful way to honor a child's first communion and create lasting memories for the whole family. By following these simple tips, you can ensure that your celebration will be a success.
Recent Posts
Here at PartyWorld we saw how crazy everyone went last year for our Halloween costumes. So this year …

Halloween is the time of year for both kids and adults to loosen up and then to dress up! While look …

Looking to dress like your favourite Superheros this Halloween? Luckily for you we've the latest and …